Greece is one of the most popular destinations for honeymooners. Its amazing landscapes, delicious cuisine, luxury hotels and sandy beaches make it a great choice for your honeymoon. In this article we aim to give you some ideas and assist couples with planning their Greek honeymoon to create enjoyable moments by selecting some of the best hotels, restaurants & activities etc. In this first edition of our "honeymoon section" we will cover the 3 most popular islands; Santorini, Mykonos & Crete. Be sure to check back again later for our second edition in which we will explore additional island options.
For a customized travel package you can always get in touch with us or check our greece honeymoon packages page.
How to use this guide to plan your Greece honeymoon
We prepared this guide for you so that we can better assist you to create a memorable Greece honeymoon package designed with your preferences in mind.
A general Greece honeymoon package usually consists of the following 4-5 items;
hotel accommodation (often luxury suites)
cultural sightseeing (occasional)
beaches
restaurant for an enjoyable & romantic dinner
transportation between the islands
Your honeymoon package's structure will be like this:
Island 1

Hotel
Restaurant
Beaches
Sightseeing
Transportation

Island 2

Hotel
Restaurant
Beaches
Sightseeing
Transportation

…
…
Therefore you need to choose these items carefully to make a great honeymoon package. In order to help you to choose them we have curated the best options available.
Hotels: As you might already know, hotels will be the crucial part of your honeymoon. Choosing the wrong hotel for you may ruin your stay or it could be the making of a comfortable, relaxing and enjoyable vacation. Therefore it requires the most attention. Thankfully, Santorini and Mykonos offers lots of accommodation alternatives for a wide range of budgets. Below we listed 5 different hotels for each island, from luxurious to average, which we have used frequently in our valued clients' honeymoon packages.
Restaurant for a romantic dinner: A honeymoon without a romantic dinner is like a beach without sand. Thanks to plentiful waters and the fertile soil of the Aegean and Mediterranean area, Greek cuisine offers a variety of choice when it comes to a delicious meal. There are many restaurants and taverns at which you could have a tasty meal at a reasonable price. Below however we have listed 5 exclusive restaurants for each island that, while pricey, are worth every penny, offering great views and memorable experiences.
At the end of this article you will find some examples of Greece honeymoon packages that we offer to our valued clients. You can then contact us to update & tailor the itinerary more to better suit your needs & preferences.
Popular honeymoon islands
Under this title, we will try to provide the best islands and spots in Greece for a perfect honeymoon.
1. Santorini
Santorini is probably one of the most intriguing destinations in the Cyclades group of islands. Stunning sunsets, amazing scenery, beaches of black, red & gold colored sands, museums, archaeological sites, traditional houses & churches … this islands offers many attractions & a wide-range of activities. It has also become a famous wedding destination for those that wish to not only spend their honeymoon here but also have the ceremony take place with its wonders as a backdrop.
A dream for many to capture a few colorful and reflective moments, not forgetting of course numerous kisses, under the glorious sunset provided by mother nature. This island is truel the #1 location for honeymoon travelers and should be included during any Greece honeymoon travel package.
Selected hotels / Where to stay
Katikies Hotel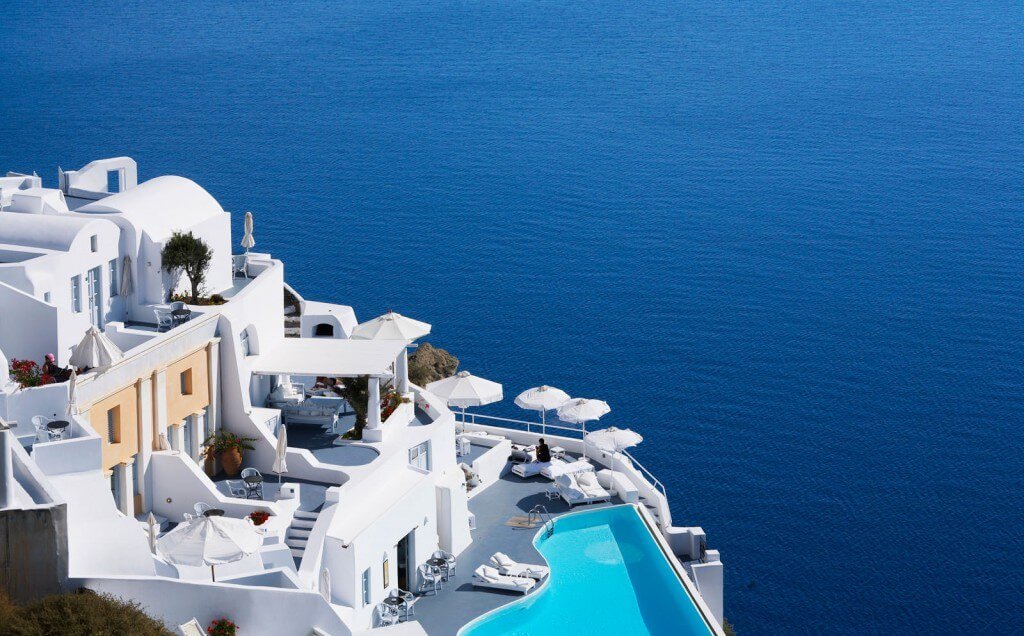 One of the most popular hotels for honeymooners, keep in mind that you need to make your reservation at least 3-4 months in advance to get a room here.

Katikies Hotel, Santorini
Address: Oia (Ia), Santorini 84702
Cyclades Islands, Greece
Phone: +30 22860 72382
Website
---
Canaves Oia Hotel, Suites and Villas
Canaves Oia Hotel, Suites and Villas, Santorini
Address:84702, Oia, Santorini, Greece
Phone:+30 22860 71453
Website
Astra Suites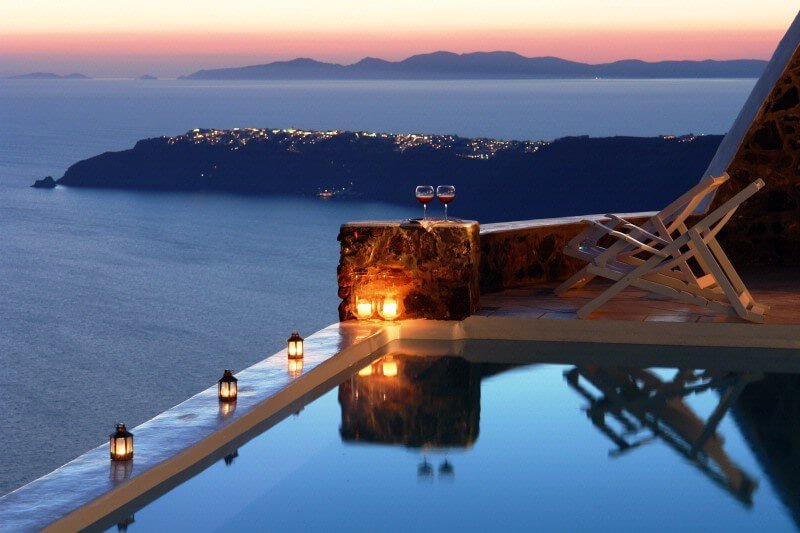 Astra Suites, Santorini
Address: P.O. Box 45 Imerovigli Santorini
84700 Greece
Phone: +30 22860 23641
Website
Mystique Hotel
Mystique Hotel, Santorini
Address: Oia 847 02 Greece
Phone: +30 228 6071114
Website
Things to do
Enjoy a semi-private catamaran cruise with swimming stops, bbq on board and sunset views
Hike the scenic Fira to Oia trail, offering amazing views and photo opportunities
Visit Ancient Akrotiri: archaeological site often referred to as the "Pompeii of the Aegean"
Visit Emporio village: located at the heart of the island & close to beaches of Perivolos and Perissa
Visit Amoundi Bay, and maybe stay for a dinner of great seafood
Visit a winery (Santos Winery or another) or brewery (Yellow Donkey)
Relax on the beaches of Perivolos, Perissia & Kamari, Red Beach, Vlychada & Agios Georgios
Best restaurants for a romantic dinner / Where to eat
Argo Restaurant
Argo restaurant offers delicious cuisine and spectacular views of the Caldera from its terrace. They offer a rich menu and excellent service from their professional chef & waitstaff. Make a reservation in advance to assure one of their best tables with an amazing view.
Address: Fira, Santorini, GR 84700
Phone:  + 30 22860 22594
Website
Selene Restaurant
Selene Restaurant is located in Pyrgos (the highest peak of the island) and celebrated its 30th anniversary last year. They offer gourmet food and special wine. You can also join their cooking courses if you are looking to add something different to your travel experience. Please keep in mind that you need to make reservation via email or by phone at least 48 hours in advance.
Address: Santorini, Greece, 84700, P.O. 87
Phone: +30 22860 22249
Website
Best beaches / Where to swim
2. Mykonos
The most famous and cosmopolitan island of Greece, it is here in Mykonos that you can find travelers from all walks of life enjoying their place under the heart warming rays of the summer sun. Its fabulous beaches, meandering cobble stoned streets & whitewashed villages, all call out for you to leave your cares behind and enjoy a few magical days in paradise. The tantalizing cuisine of local restaurants urge you to treat your taste buds then head out to one of the hopping bars & clubs to dance the night away. An island offering escape for those that just wish to relax or a chance to party like never before for those that enjoy great nights out. Either way, don't forget to make some time to also explore the island's history and traditions too.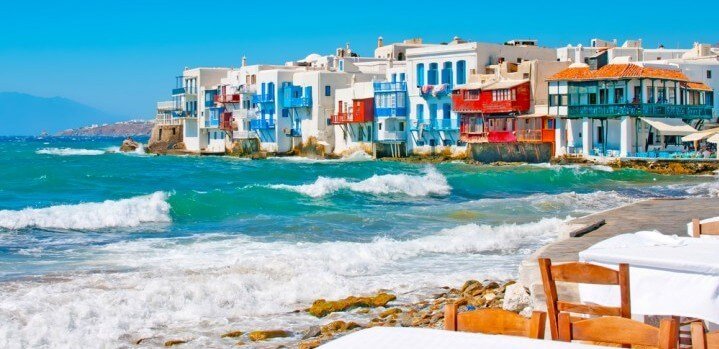 Selected hotels / Where to stay
Bill and Coo Suites
Address: Megali Ammos, Mykonos 84600
Phone: +30 22890 26292
Website
---
Mykonos Grand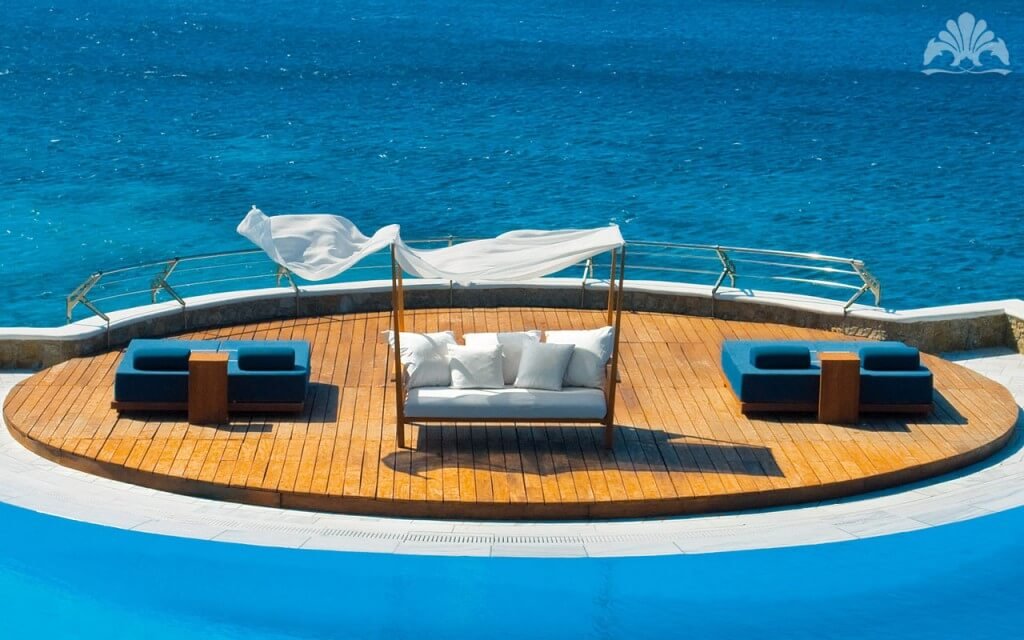 Address: Ayios Yiannis, Mykonos 84600
Phone:+30 22890 25555
Website
---
Mykonos Blue Exclusive
Address: Psarou, GR-84600, Mykonos
Phone: +30 22890 27900
Website
---
Myconian Ambassador
Address: Platis Gialos, Mykonos 84600
Phone: +30 22890 24166
Website
---
Petasos Beach Hotel
Address: Platis Yialos, Mykonos 84600
Phone: +30 22890 23437
Website
Things to do
Little Venice: variety of cozy restaurants, bars, shops and nightclubs, bustling at all hours.
Iconic Windmills: from their hilltop location you can see the town & harbor in the distance.
Panagia Paraportiani: the most photographed church of the island, located in Chora
Half day boat trip to Delos Island: archaeological site sacred to the ancient Greeks
Seaside time on the beaches, Paradise beach, Super Paradise beach, Agios Yialos beach
Ano Mera: the island's only other real town & not as crowded, home to 2 monasteries.
Reserve a couples massage at your hotel, a relaxing treat
Best restaurants for a romantic dinner / Where to eat
Avli Tou Thodori
Funky Kitchen
Kalita
Best beaches / Where to swim
Elia Beach: one of the longest & most popular; umbrellas, sun beds and beach bars dot the coastline.
Paradise Beach: one of the most famous, attracting mostly young crowds for its day & night beach parties.
Platis Gialos: well-organized, sandy and clean, also easy to reach from the main town.
3. Crete
There is so much going for Crete, the largest island in Greece, that it is difficult to limit it to only one short introductory paragraph. From glistening covers with sandy beaches, to noble mountaintops, through fertile valleys & steep gorges, this island bursts with the relics of numerous civilizations & astounding natural beauty … all ready and waiting for you to discover! A stay of 2 days might be enough explore the highlights of its main city Heraklion & nearby Knossos Palace or relax at one of its numerous resorts, but you would need a lifetime to truly appreciate all its treasures, not least of which is its rich gastronomic culture. Crete is one of the islands that is great all year round, not only just for the summer months.
We'll provide more information about Crete soon.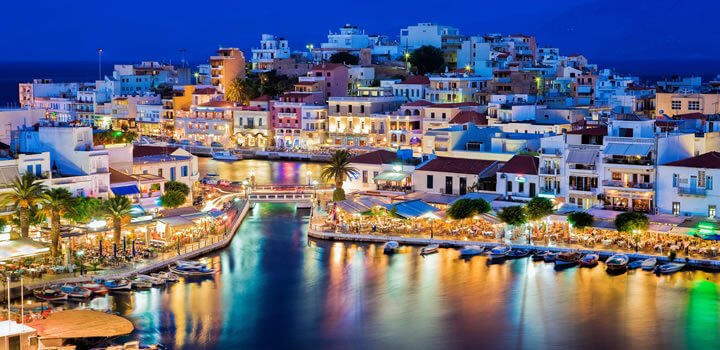 Example tour packages we are offering
Athens Santorini – 6 days
Santorini, Mykonos & Athens – 8 days
Istanbul, Santorini, Mykonos & Athens – 10 days
Istanbul, Santorini & Athens – 08 days
Rome, Venice, Santorini & Athens – 12 days
Crete, Santorini & Athens – 8 days
Required budget – Cost of your Greece honeymoon package
There are many factors such as length of stay, class of hotels, month of travel, number of activities you decide to include, etc. that will affect the total budget for your Greece honeymoon. It will be determined according to your preferences therefore it is not that easy to give a "general off the cuff estimate".
A hotel may cost 100$ per night or 1000$ per night. The hotels mentioned in this article are luxury options but we do also cater for those with a leaner budget. Feel free to reach us (noting all items that you would like to include / items that would make this the best experience for you) and we will be happy to return with more details and a price estimate (quote).
When to go
The best time to visit Greece – when taking into account factors such as weather, crowds & budget – are mid April through mid June & from mid September through mid October. During these months you can enjoy pleasant sun filled days with light breezes, not have to endure overcrowding (half of Europe spends its July-August summer holidays here) and there is also a greater chance of finding availability in the hotels of your dreams.
The peak months of July & August, with its scorching sun, may be difficult to endure for those that are not wanting to spend most of their time swimming in the sea or lazing on the beach suntanning. Winter season is not the best choice for island hopping itineraries, though still possible of course, as many ferry companies stop operating numerous routes & connections during these months and 90% of hotels and restaurants are closed on the islands.
Winter is more a time to experience the treasures of the mainland for those that wish to focus on history and archaeological sites.


What to pack for a Greece honeymoon
Besides all the necessary things such as your passport, your daily clothes, personal care equipments, the things in the list below are important for your Greece travel.
Swimsuit
Flip flops
Sunscreen
Comfortable sport shoes
Sun glasses
After sun cream, moisturizer
EU adapters
Inspirational Videos from Vloggers
Extra – A Spotify list
Extra – VR tour of Santorini